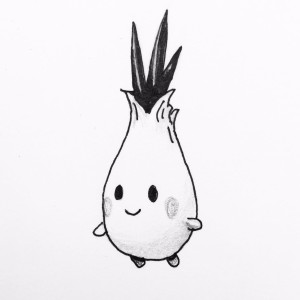 My fascination with onion baby started in the car last week on my way to a wedding. I doodled its bulbous shape over and over and experimented with the eye-to-mouth-size ratio to make the cutest thing possible. Here's the result of that "research," done in Cinema 4D:
I like the way Cinema 4D's cel shader gives things a 2D look on the surface but the 3D volume is obviously still there. I didn't use any sort of rigging for this, I simply keyframed the scale and rotation of the body, limbs, and leaves. I did cheat just a tad by using jiggle deformers on the leaves: it makes bouncy movements really dynamic and takes just seconds to set up!
For the kid (teen? tween?) onion I did use a more traditional IK rig, albeit with a bezier spline rather than a linear one, and a squash and stretch deformer on its body.
I'm on a roll, making my way through all the myriad mograph tools in Cinema 4D. Today I modeled my friend Julie's hermit crabs (L-R): Joe "Big Claw" Pesci, Robert "Crabs" DeNiro (happy 1st birthday), and Martin "Boss Man" Scorsese.
Here's what the entire scene looks like (albeit way too fast). The shells were the most fun part to model: I used a helix spline with a sweep NURBS to make the middle crab's ice-cream-swirled shell. The one on the left is simply a pyramid primative swirled around by a twist deformer. The second-most fun was the pebbles, which I used the cloner and dynamics to rest at the bottom of an invisible glass fishbowl.
My least favorite part is the pink coral; for whatever reason, its shadows appear weird and glossy despite having the same material properties as everything else in the scene. Oh well. Next time!