No, it wasn't anything like the movie. This winter I had the great fortune of being able to take a trip to Europe! I took two whole weeks off work, which I've never done before, to tour three European cities– which I'd never done before either.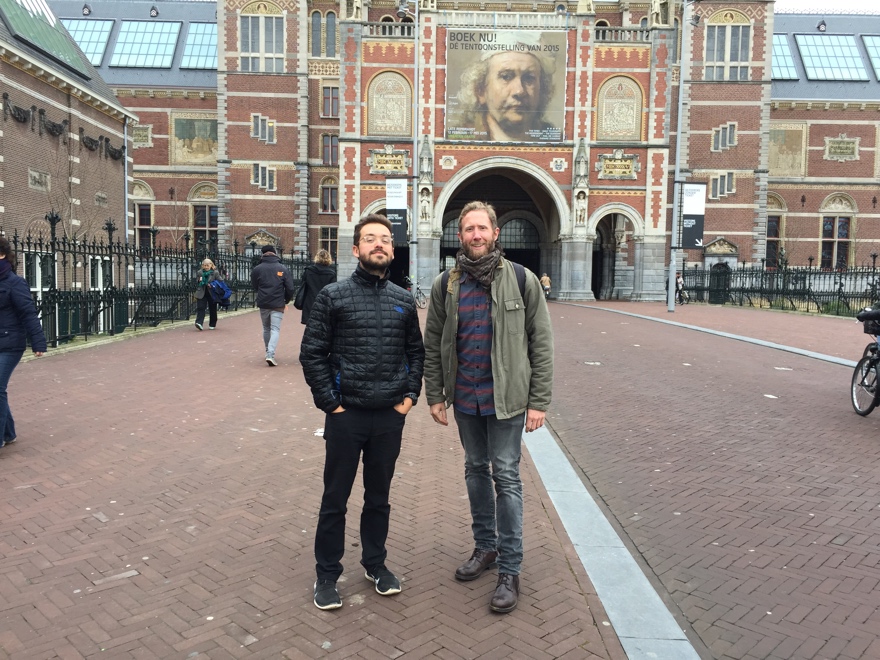 I flew into Amsterdam and met up with Ian and his friend Richard; both of them had been working on a project in Tanzania so they weren't quite used to the cold weather. I thought it would be bad, but it was 12 degrees and snowing in Richmond when I left, so basically anything beats that. Here they are in front of the Rijksmuseum, chock full of work by Rembrandt, Vermeer, Van Gogh, and lots of Dutch artifacts as well.
This was basically the reason for the entire trip: STROOPWAFELS! I'd had these caramel waffle/cookie confections before, but never hot off the griddle like they are made in the Netherlands. This was at a market, and it was the only thing I bought.
We did so much stuff, walking about 12 miles a day on average. We didn't walk to Paris, though, we took a train. Trains in Europe are great. Public transit everywhere was awesome and easy to use, especially in Amsterdam. The Dutch seem like a very organized people. Anyway, this is a picture of the Musée d'Orsay, home to Le Déjeuner sur l'herbe and hundreds of other formative impressionistic works. It's housed in an old train station and the layout is just beautiful. Not a bad way to waste an afternoon.
After a petit déjeuner (pretty much all we did was eat), we went down to the Catacombs of Paris. I really enjoyed it. To get there, you go down about 10 flights of stairs and walk through some long, cold tunnels, and you pop out in the honeycomb-like mining tunnels of the Catacombs. Below, there's nothing but the skeletal remains of 6 million people and the occasional stone monument. A lot of people would say it's creepy, but the feeling down there is much more peaceful than anything else. The silence, the still air, and the meticulously stacked bones that line the tunnels give all the deceased a respectful place to rest. That's the best way I can describe it– peaceful, not disturbing at all. Oh, and this was on Valentine's Day. Very romantic, yes?
After hitting up a few other places (The Pompidou, Notre Dame, a bunch of crepes and some amazing Moroccan food), we took the train to Barcelona. The Paris Lyon train station was a bit of a nightmare– not enough signage (not that we could read it anyway) and thousands of people running around in utter chaos. Anyway, Barcelona was simply the best. We found an incredible apartment on Airbnb for just 80€ a night, and the owner couldn't have been nicer. It was in the Gràcia neighborhood, not a very touristy area, but something more akin to Brooklyn– amazing restaurants and such nice people everywhere. We took the subway and bus all over the city. Here's Ian at La Boqueria, the big public market in the "old city." Iberian ham and manchego abound. So much beautiful fruit and fresh juices, too.
Barcelona is a very artistic city with its own distinct style. From typical Catalonian architecture to works by Gaudí, no other city looks like it. This sculpture is on the rooftop terrace of the Fundació Joan Miró, a museum dedicated to the works of Joan Miró and built during his lifetime. We saw the Picasso museum too, but it housed only his early works, so I liked the comprehensive collection at the Miró museum a little better. Both were fabulous. Catalonians have such great pride in their art and culture, which was really refreshing. The only thing that took getting used to was eating dinner at 10pm! Yes, they really do that.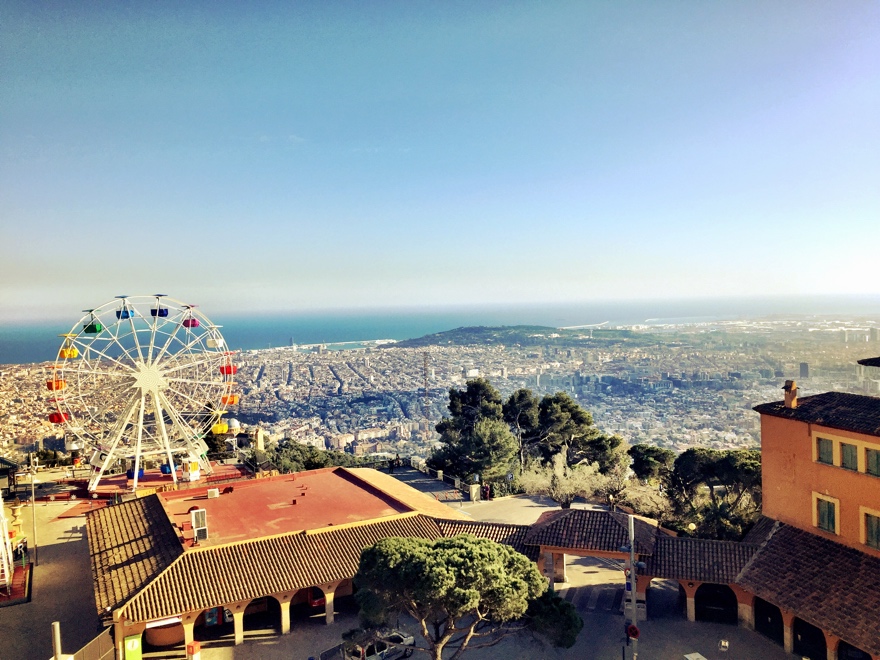 On our last day there, we ventured the looooong journey via rail, bus, and the funicular (incline railway) to the peak of Tibidabo Mountain. At the top, there's an astonishing view of the city and the sea. There's also a century-old amusement park and a pretty church– this photo was taken from the church's stairs. I could ramble on and on about the beauty of Barcelona and all the ham I ate (so much ham…) but I'll stop there. I need to redeem myself at the gym from all the croissants, stroopwafels, and tapas I ate.