Welcome to the grooviest petri dish on the net. Ready to be the best brotozoan you can be? Swim around the dish and spread your love to as many fellow protozoa as you can. When you befriend 100% of them, you win. But beware, there are some bad hombres out there tryin' to goof up your friendships. Play in your web browser now!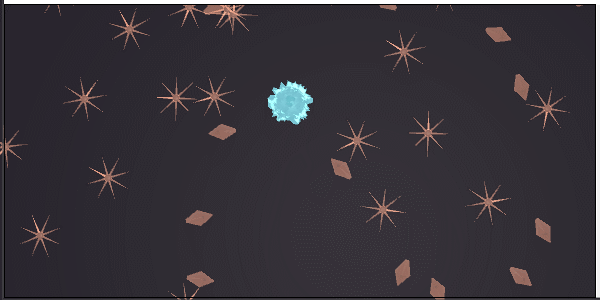 I made Brotozoa last weekend for Ludum Dare 38, a solo game development competition where you have 48 hours to make a game. Admittedly this is not the funnest game I've made (I think it barely passes as fun) but my goal was to get more comfortable with Unity's component system and controlling particle generators via scripts. I also had to do a bit of 3D modeling and the final Brotozoa character looked really cool with a spring-loaded, wobbly nucleus, but it ultimately ended up being too small to see clearly.
The bottom line: Brotozoa is a cool concept but ultimately not challenging or dynamic enough. Also, all the other cells eventually float to the left side of the screen, making it impossible to win. Oops.